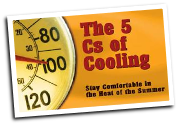 Remember these 5 C's to be sure you are getting the protection you need this summer!
As warmer temperatures approach, many consumers will turn to their thermostat to battle the heat and keep their homes cool. However, they might not realize that their air conditioning system can do much more than protect them from the heat. In fact, some systems help homeowners keep money in their wallet and help keep their house healthy. Experts recommend that homeowners keep the 5 C's of cooling in mind as they protect their home from the heat and evaluate the latest cooling technologies.

1) CUSTOM COMFORT
Obviously, your comfort is the first priority. Air conditioning advancements have made it easier to escape from the muggy summer heat and customize the setting in your home during certain times of the day. The latest technology can even let you program your thermostat from your cell phone or computer so that you can walk into your ideal temperature as you arrive home. You can also adjust indoor humidity from afar when the heat index is unbearable. Call us to learn more about what we have to offer!

2) COST-EFFICIENT
What efficiency level is right for your home? From lower utility bills to tax savings, there are many things that consumers should keep in mind. Seasonal Energy Efficiency Ratio (SEER) rating can help you save money each month on your utility bills. Some systems can even qualify you for a government tax credit. Since 2006, the minimum efficiency available on new air conditioners is 13 SEER with some companies offering up to 20 SEER and above.

3) CLEAN
From pollen to mold spores, summer can be a tough time for allergies. What many people don't know is that indoor air can be up to five times more polluted than outdoor air. The Environmental Protection Agency ranks indoor air quality as one of the nation's three most important environmental issues. Even the cleanest homes can contain pet dander, viruses and other contaminants.
To help keep your family's air healthy, look for a high-quality, high-efficiency, whole-home air purifier to add your heating and cooling system. The right device can clean and protect the air you breathe by filtering and killing potentially harmful indoor pollutants. Carrier's Air Purifier is your most reliable solution for enhanced indoor air quality.

4) COOLANT
If you live in an older house, your cooling system probably uses a coolant or refrigerant called R-22 commonly known as Freon®, which is an ozone-depleting refrigerant scheduled to be phased out beginning in 2010. Today, there are environmentally sound alternatives like Puron® refrigerant that won't deplete the ozone layer. If you are in the market for a new air conditioner, you will want to be sure you're getting Puron® refrigerant in you new system.

5) CUSTOMER SERVICE
The right heating and cooling system begins with the right service company. Total Comfort Systems is right here at your fingertips. We're a second generation business since 1976. We are the oldest and most trusted heating and air conditioning company servicing the tri-counties. We will do whatever it takes to help keep you cool during the sweltering summers and the bone chillin winters. We will serve as your resource for warranty questions, system recommendations and any other ongoing support on home cooling issues.